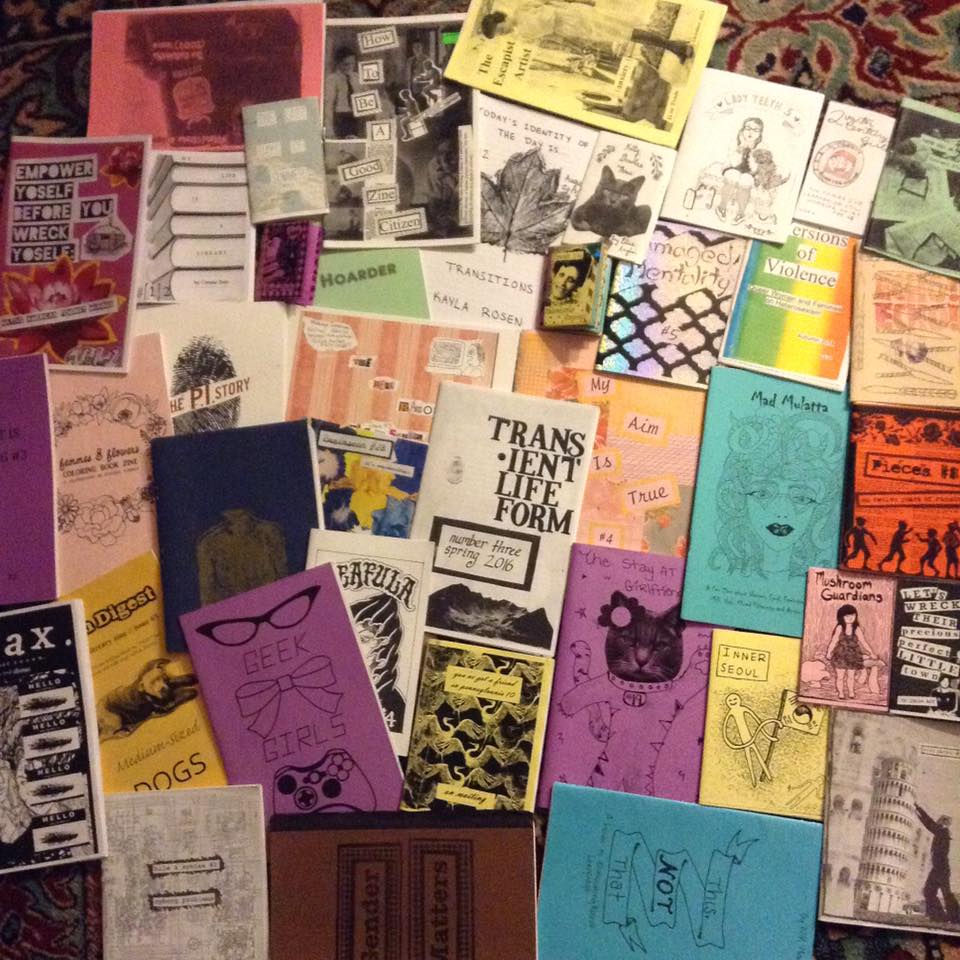 I love zines! Not just collecting and reading them, but making, selling, and trading them! This section of my site is about the zines I make and zine events I've attended. I also have some links here to free downloads of some zines I made!

I've been involved in zine culture since Fall of 2014. Since I discovered zines I've made over 25 zines of my own, traded hundreds of zines with other zine-makers, edited the Asexual Content zine, helped found and run the Ace Zine Archive, run a zine Tumblr (no longer active), contributed to many compilation zines, tabled at several zine fests and other art events, run several zine workshops teaching about zines and how to make them, and almost completed work on a zine-trading social network Android app called Let's Trade Zines, which is on hold. Basically, my life revolves around zines! Other current projects include being the head organizer for the Litchfield County Zine Fest (the first and only zine fest in Connecticut) and creating a zine anthology book of the first seven issues of my personal zine (meta)paradox.

I also run a Discord server about zines called Zines and Zinesters, which you can find here: https://discord.gg/DrRyFx9

First of all, here's where you can find my Etsy, where I sell zines online: http://paradoxnowcreations.etsy.com/



Downloadable Zines and Goodies


You Know You're a Rural Queer When... The Zine

I was feeling super isolated during pride month 2019, so I made a zine about it and cried. 16 pages, 1/8 size. #IsolatedQueerSolidarity

Let's Make a Zine! An Interactive Workshop - The Zine!

This zine contains the contents of the generic (non-themed) version of the zine workshops I teach.

Instructions for printing: Print the zine double sided at 100%. Stack the pages with the page that has the cover on top. Cut down the center (horizontally) of the stack and put the lower stack under the upper stack. Staple at the center of the stack and fold the zine into a booklet.

Summer Mixtape Zine

I made this zine for a zine jam. This zine is a simple 1/8 size mini zine with 16 pages, containing a playlist with commentary, anecdotes, and art.

Camp Ravenrock Promo Zine

I made this zine to hand out to people at Play NYC. The zine is some basic facts and art about my dating sim demo that I showed at the event.

Quick QTPOC Zine Resources

I made this pdf for a zine workshop at a QTPOC conference. It contains resources for finding zines by queer and trans people of color.

1 Sheet 8 Page Mini Zine Template

Here's a template I made for a 1 sheet, 8 page, no staple mini zine.



Here is the current list of zines I've made or edited:
(meta)paradox #1
(meta)paradox #2
(meta)paradox #3
(meta)paradox #4: The Religion Issue (not currently available)
(meta)paradox #5: The Neuroqueer Issue
(meta)paradox #6: The Brainweird Issue
Meta (meta)paradox
Anecdata #1
Anecdata #2
Anecdata #3
Anecdata #4
Anecdata #5
Anecdata #7 (no, that's not a typo, I haven't finished #6 yet and #7 was a 24 hour zine)
Psychometry
Psychometry #2: Little Voices Everywhere
In Veritas Lost
Uncanny #1
Ephemeral #1
Ephemeral #2
Infinitism: The Zine
Let's Make a Zine! An Interactive Workshop: The Zine!
Dark Light
Mirror Walk
Seamless
Possession Obsession
Ailenn and Mark: First Meeting
Ailenn and Jay: The Interview
Dream a Little Dream
Nostalgia Whiplash #1: The Internet of 2005-2007
A short zine on zines made for another zine workshop
Summer Playlist zine
You Know You're a Rural Queer When...
I'm currently working on these zines:
Dumpster Fire Apocalypse
In Our Own Wor(l)ds
A zine of tiny rpgs, larps, and supplements playable with paint chips
Come At Me Bro (But Not Really Because I'm Too Sensitive): A Zine of Unpopular Opinions
Going Gray (compilation)
(meta)paradox #7
Anecdata #6
Uncanny #2
Psychometry #3: Bits and Pieces A Go Go
Stuff I Drew in School (compilation)
Anything, Everything (compilation)
Autistic Self Care and Community Support (compilation)
Asexual Content #2: Gray Areas
Here is where I'll list the zines (not my own) I've contributed pieces to:
Problem Skin Zine - "Under My Skin" (also printed in Anecdata #1)
Mental Health is Ugly - "The Mental is Physical"
Chroma Zine - "Situated on Spectra" (also printed in (meta)paradox #2)
The Bandit Zine: Love + Heartbreak - "Finding Asexual Love" (also printed in (meta)paradox #4)
Technophilia #0 - "Transhumanist Feels" (also printed in (meta)paradox #3)
f-ace-ing silence #4 - "Gray-A Definitions, Division and Silencing in the Ace Community"
No Missing Pieces #2 - "I Talk About Myself Too Much" and "I <3 Lists" (also printed in (meta)paradox #2)
Hairy Femme Mother #2 - "Hairy Disabled Latina Femme" (also printed in (meta)paradox #5)
All in Your Head #3: (A)Sexuality, Intimacy, and Identity - "Am I Gray? Gray Areas of Identity and Impairment" (also printed in (meta)paradox #3)
All in Your Head #4: Cure - I contributed to a round table discussion in this issue
Sober Queers Do Exist - "Fear and Habit"
FEMME: Part 1 - "Queer and Femme" (also printed in (meta)paradox #5)
Versions of Violence: Queer Women and Femmes on Heterosexism - "Heterosexism and Invisibility"
STATIC Zine: Heal & Grow - "Zines and Healing"
Flourish Zine - "Queer Ace"
Static Zine Volume 1 Issue 1 - "Zines and Healing">
Femmes & Flowers: Coloring Book Zine - a photo of me was made into a coloring book drawing in this zine
Bi Focus: Coming Out - "Bi Myself" (also printed in (meta)paradox #5)
Mixed Up! Vol. 2: The Mixed-Race Queer & Feminist Zine - "Guacamole Memories"
Dragon Trainer High School - "Sephy & Gwendolyn" (an art piece)
If there is an Aces in the Church #2, I will have a piece in it. It's written, but I didn't submit it in time for it to get into the first issue.
The Last Time I Cried Volume II - Untitled piece
Paper Currency #1 - A piece on my "first zine" that got me into zines
Riot Grrrl Reviews #1 - Several reviews
A Paw-Culiar Cuteness - A drawing titled "Calvin"
Zine and related events I've tabled at:
East Bay Alternative Book and Zine Fest 2016
Pioneer Valley Zine Fest 2017
Springfield Book Crafters Fair 2017
Queer/Trans Zine Fest 2017
Railroad Days Street Festival 2017
Western Massachusetts Queer Makers Market Summer 2017
New Zineland 2017
Betty Zine Fest 2017
Northampton Print and Book Fair 2017
New York Queer Zine Fair 2017
Winter Solstice Queer Makers Market 2017
NYC Feminist Zine Fest 2018
Massachusetts Feminist Zine Fest 2018
Pioneer Valley Zine Fest 2018
Queer/Trans Zine Fest 2018
New York Queer Zine Fair 2018
Western Massachusetts Queer Maker's Market Summer 2018
Flywheel Comics Fest 2018
Pioneer Valley Zine Fest 2019
NYC Feminist Zine Fest 2019
Litchfield County Zine Fest 2019
Western Mass Queer Makers Market Summer 2019
NY Queer Zine Fair 2019
Places I've taught zine workshops:
Stanford Splash! Fall 2016
Stanford LGBT-CRC (as a part of the Flourish program)
Douglas Library (Canaan, CT) (x2)
David M. Hunt Library (Falls Village, CT)
The Cornwall Library (Cornwall, CT)
Bushnell Sage Library (Sheffield, MA)
Five College Queer Gender and Sexuality Conference 2018
Northeast QTPOC Conference 2018
Northeast LGBT Conference 2018
Five College Queer Gender and Sexuality Conference 2019
Litchfield County Zine Fest 2018
Litchfield County Zine Fest 2019